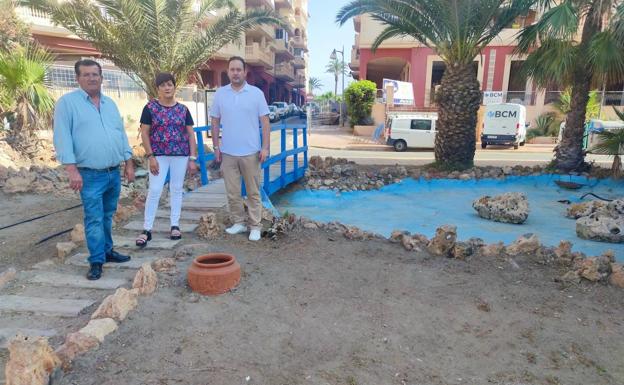 The article here on the Ideal site has information about the derelict Japanese garden in the centre of Almerimar.
The council is asking if they can take over responsibility for the area from the current owner. So they can restore it.
Read More for a Google translation of the article.
The City Council asks the owners of the Japanese garden of Almerimar for its assignment
Despite being an area through which thousands of Ejidenses have walked and which has been the chosen place for many artistic photos, it is a privately owned space.
For many months, years even, the Almerimar Japanese garden, located in the Dársena Condes de Barcelona, ​​specifically between Galeón, Fusión and Raquero streets, has been in a sad state. Those who remember this space as a place to stroll, where thousands of residents and visitors have taken pictures, with a lake where there were even fish, now look at it with a sad look for seeing everything dry and neglected. So much so that a few weeks ago from the municipal group of the PSOE the local government was urged to take action on the matter and return to making it an attractive place for residents and vacationers of this nucleus.
However, it is a private space where the City Council cannot act on its own initiative. What the Consistory did carry out weeks ago was the referral to the owner community of "an execution order for its cleaning, which it carried out at the beginning of last July," explained the Councilor for Public Works and Maintenance, Alberto González .
In addition and as González announced, they have proposed to the Community "that they cede that area to the City Council so that it becomes part of the network of municipal gardens and be treated by maintenance services."
An action that would allow the Consistory to carry out its rehabilitation and maintenance and to be able to return to the place the image that that coquettish place offered to tourists years ago and that became the place chosen by many photographers to immortalize newly married couples.