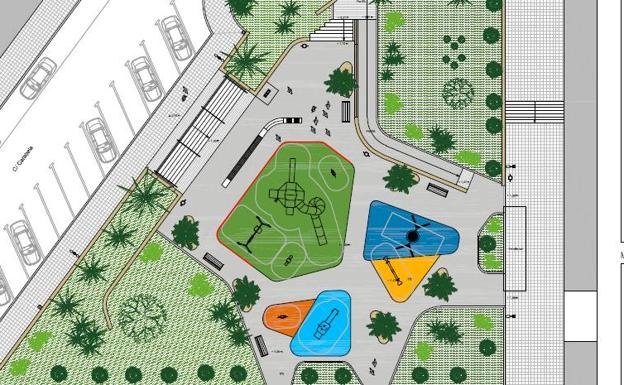 This is a bit of a repeat from earlier in the year. It appears that the improvements to the play area between Dársenas 2 and 3 is getting closer to happening. According to the article here on the Ideal site.
Read More for a Google translation of the article.
Awarded the remodeling works of the Plaza Carabela in Almerimar
A playground will be installed and it will become an inclusive space with improved safety and accessibility
The Local Government Board has approved the award of the works for the Plaza Carabela in Almerimar, with a budget of more than 150,000 euros, which will make it possible to solve the existing unevenness problems, install new games for children, provide new urban material to the area and improve its aesthetics.
Thus, on the one hand, the construction of a main entrance is planned, which will be made up of stairs that will bridge the gap between the pavement and the central area of ​​the square, and an accessible ramp, parallel to the parterre located to the northeast of the square, so that the accessibility of this public space is guaranteed.
As for the play area, it will be inclusive and will have a double swing, a nest swing, a compact multi game, three individual springs and an axial rocker. In addition, the impact-absorbing rubber floor will be paved, while the current urban furniture will also be replaced with new elements along with the existing lighting, which will be replaced by more efficient luminaires.
On the other hand, during the Local Government Board, the contracting of the execution of the 'Supply of ICT equipment for Collegiate Bodies' was also approved, within the DUSI Strategy, with a budget of more than 30,000 euros, for the acquisition of a blackboard interactive digital, 30 computers with wireless connection for access to documentation in the municipal cloud and attendance at videoconference sessions.